Introduction
Short and sweet. My Windows 10 Toast Notification Script have received a minor update. Now being at version 1.2. The changes mentioned in details below.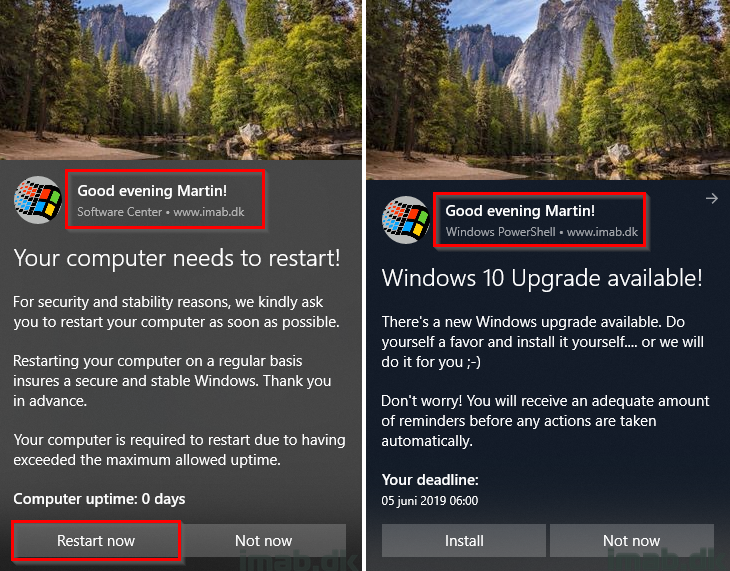 Changes
Personal Greeting
Coming this update, the Windows 10 Toast Notification Script is now able to greet the end user personally by given name, making the toast even more appealing and interesting (hopefully).
The script tries to retrieve the given name from the user in Active Directory. If no Active Directory (or given name) is found, the given name is replaced with colleague: Good evening colleague.
The greeting changes based on time of the day and switches between "Good morning, Good afternoon and Good evening. The personal greeting replaces the HeaderText option in the config.xml file.
Also, there are other means than Active Directory to find a given name (for non-domain joined computers). I'm probably going to add a few more options later on 🙂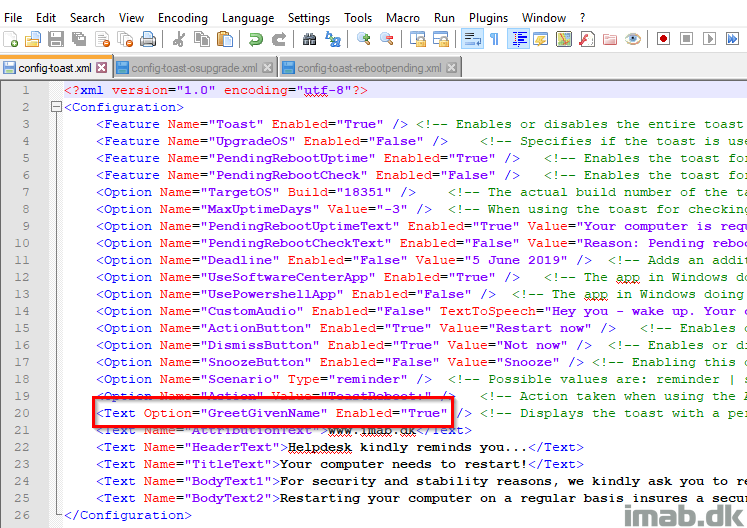 ToastReboot Protocol
This is something I have been asked a lot: How can I make the toast initiate the actual reboot. For that I have created a custom protocol called ToastReboot which when used is running shutdown.exe /r /t 0 /d p:0:0 /c "Toast Notification Reboot". 
It's not what I consider really pretty, but it works. The toast is limited to protocol based actions thus you have to be creative this way.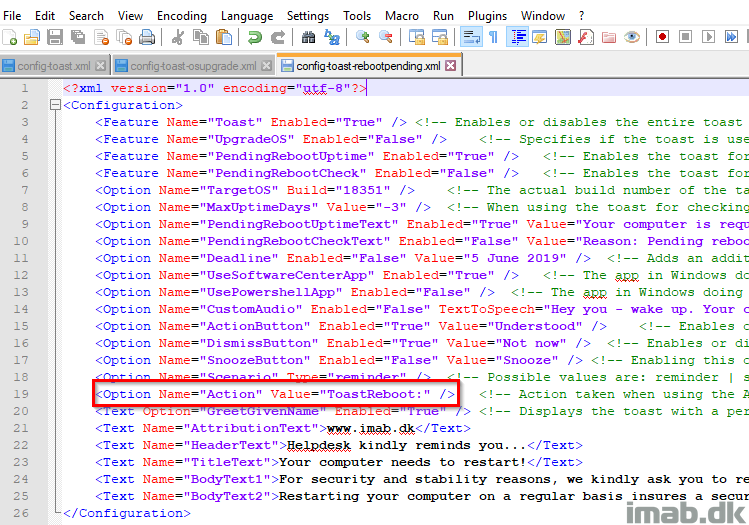 The ToastReboot protocol can be installed using the Windows 10 Toast Notification Script Reboot Protocol.msi which is included in the 1.2 download
The installation creates the protocol in the registry HKEY_CLASSES_ROOT\ToastReboot as well as installs a .cmd in ProgramData\ToastNotificationScript

Download