Introduction
My previous post was about Patch My PC and Third-Party Software Updates in SCCM 1806. This one is a quick continuation, where I'm going to share a complete Powershell script to create collections for (at the time of writing) 23 different third-party products. Products that's all available through Patch My PCs update catalog.
Currently Patch My PC has 272 different products in their catalog. I initially needed collections for the first 23. This is work in progress. I will add more products to it as an ongoing process. (Bare with me, there's a lot of work involved into installing the applications, creating the queries and testing them)
Also, I have no idea if this is something that's already been created out there, but that's no excuse not to do another one. 🙂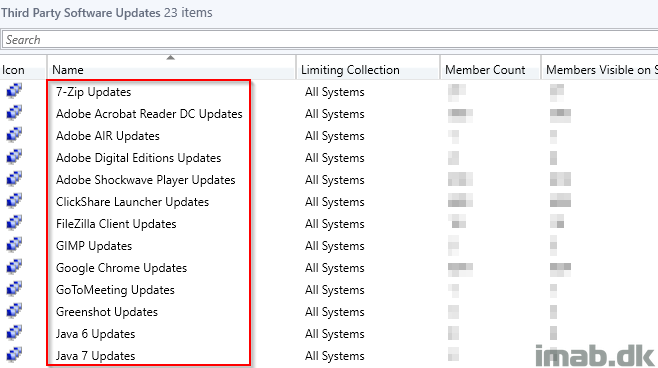 Powershell script
My complete script is available for download on the TechNet Gallery. Link below:
The script is currently only creating collections for following 30 products (work in progress). In addition to that, a folder called Third Party Software Updates will be created, where the collections will be moved to.
Update 6 September: Now creates 30 collections for 30 applications:
7-Zip
Adobe Acrobat Reader DC
Adobe AIR
Adobe Digital Editions
Adobe Shockwave Player
AirServer Universal
Apple iCloud
Apple iTunes
Apple Quicktime
ClickShare Launcher
FileZilla Client
GIMP
Google Chrome
GoToMeeting
Greenshot
HandBrake
Java 6
Java 7
Java 8
Mozilla Firefox
Notepad Plus Plus
Remote Desktop Manager
Skype
TeamViewer 11 Host
TeamViewer 12 Host
TeamViewer 13 Host
TechSmith SnagIt
VLC Media Player
WinSCP
Credit goes to Benoit Lecours from www.systemcenterdudes.com. The most of this script is kindly borrowed from his collections script: https://gallery.technet.microsoft.com/Set-of-Operational-SCCM-19fa8178
Enjoy and thank you 🙂