Microsoft just released a major update for Windows 8.1 and Server 2012 R2. A so called Update Rollup for November 2014: https://support.microsoft.com/kb/3000850
KB3000850 is treated as any other updates, and is being downloaded and deployed with my Configuration Manager 2012 environment.
Doing so out of the box was however not without obstacles. The updates is classified as a regular update, and therefore has a max. runtime set to 10 minutes.
Deploying the update as it is, was resulting in a failed status, and this in the WindowsUpdate.log:
WARNING: WU client failed installing updates with error 0x8024000b
This translates into maximum runtime exceeded, so you will have to go ahead and change that.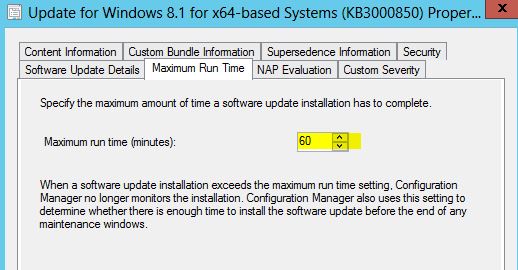 The update has a size of a service pack, so I allowed 60 minutes just be sure.