WOW! Three days ago (November 1, 2018) I was completely and utterly taken by surprise. And one of the good ones indeed. I received one of the most anticipated e-mails to date, the e-mail stating that I was awarded the Microsoft Most Valuable Professional award in Enterprise Mobility for 2019-2020.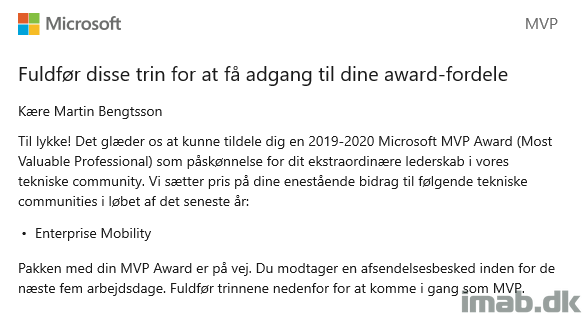 Not only was I surprised, but I instantly felt extremely proud, honored and humbled. I was literally speechless. I was in the middle of a technical conversation with some coworkers when the e-mail ticked in and highlighted my phone. Just then everything changed. I remember that I froze and had to re-check the content and sender of the e-mail several times.
This is the beginning of something great I'm sure, and there is a lot of hard work waiting for me ahead.
There's a bunch of people I obviously owe a lot of gratitude and thank you:
Niall Brady – for believing in me. For motivating me and for just being a good guy. Thank you!
My employer and coworkers – for letting me work so dedicated with my favorite Microsoft products. For giving me space and everything I needed to accomplish this amazing goal.
My family – also for giving me time and space to spend that many hours (usually after-hours) with my laptop fighting the good fight.
Microsoft – for giving us this amazing opportunity and obviously for awarding me. I am EXTREMELY honored and I will do my very best to continue to give back.
Again, thank you everybody. Thank you so much.
/Martin
More info about being an Microsoft MVP: https://mvp.microsoft.com/