Introduction
This is something that I've wanted to do for a while; to always install the latest BIOS and drivers automatically during OSD.
Keeping BIOS and driver versions up to date, can be a tedious and time consuming task, and I wanted to take on a more cloud-like approach.
For that reason, I've spent some time on Lenovo Thin Installer as well as Lenovo System Update, but they didn't quite live up to my expectations and need for flexibility.
Instead – and by coincident – I stumbled upon this awesome PowerShell module: jantari/LSUClient
It does exactly what Thin Installer and System Update offers, as well as giving you the flexibility of PowerShell. What's not to like?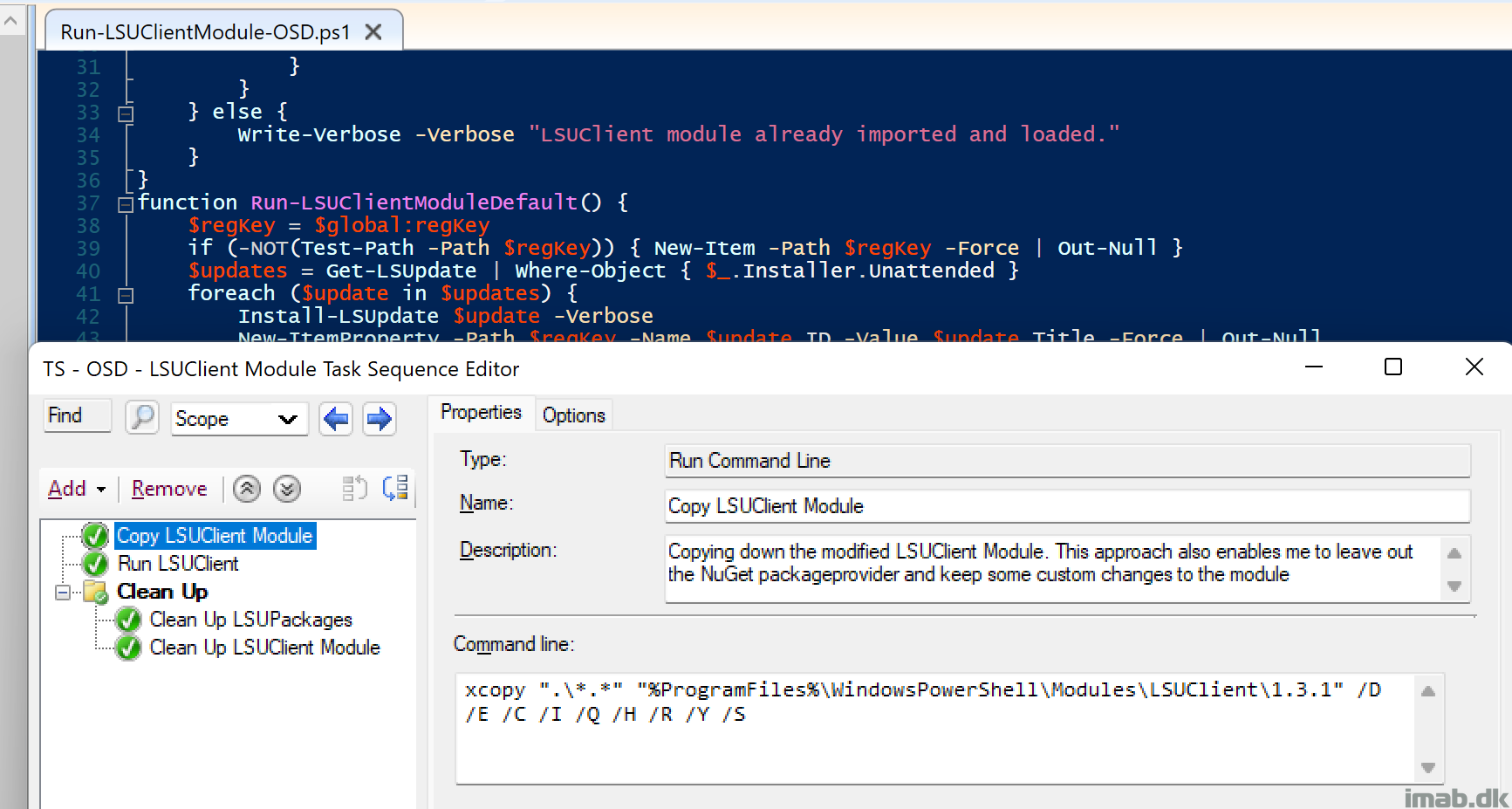 Configuration Manager
So, how do you put that PowerShell module to use with ConfigMgr during OSD?
First off, I'm running the PowerShell module from within a nested Task Sequence. This is how all of my main Task Sequence is built; with the use of nested Task Sequences.
NOTE: Find the nested Task Sequence used in this post, available as a download in the very end of the post 🙂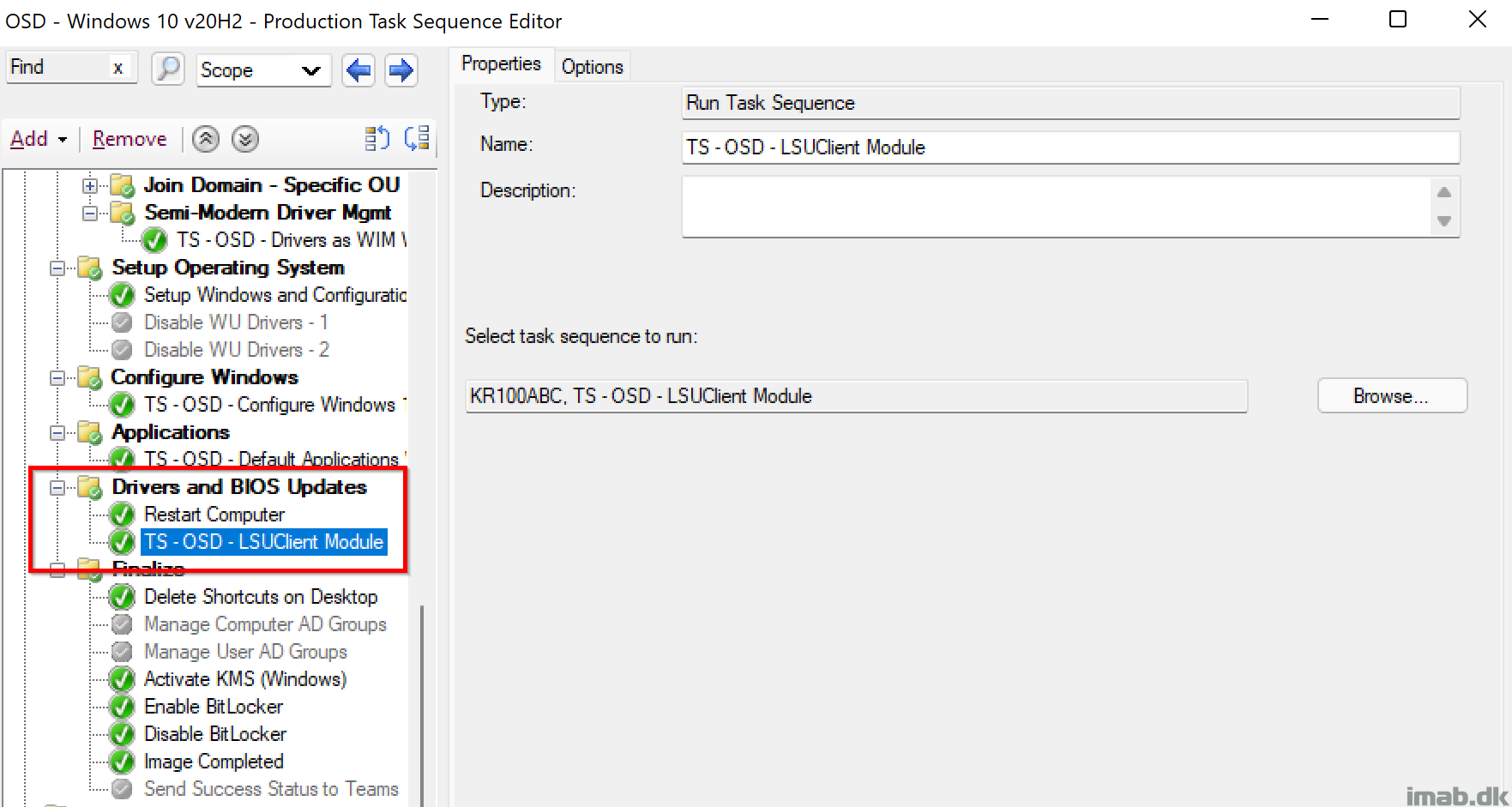 Within the nested task sequence, I start off by copying down the actual module.

This is done from a regular package, meaning you will have to download the module and package it yourself.
This can obviously be done differently and directly from the PowerShell Gallery (Install-Module, Import-Module). However, I have made changes to the module, and this approach also enables me to leave out the NuGet package provider.
NOTE: Be aware of any new versions coming out from the author himself. I'm currently hardcoding the version to be at 1.3.1. This will change, if a new version is being bumped by the author, and you intend to use the new version.
xcopy ".\*.*" "%ProgramFiles%\WindowsPowerShell\Modules\LSUClient\1.3.1" /D /E /C /I /Q /H /R /Y /S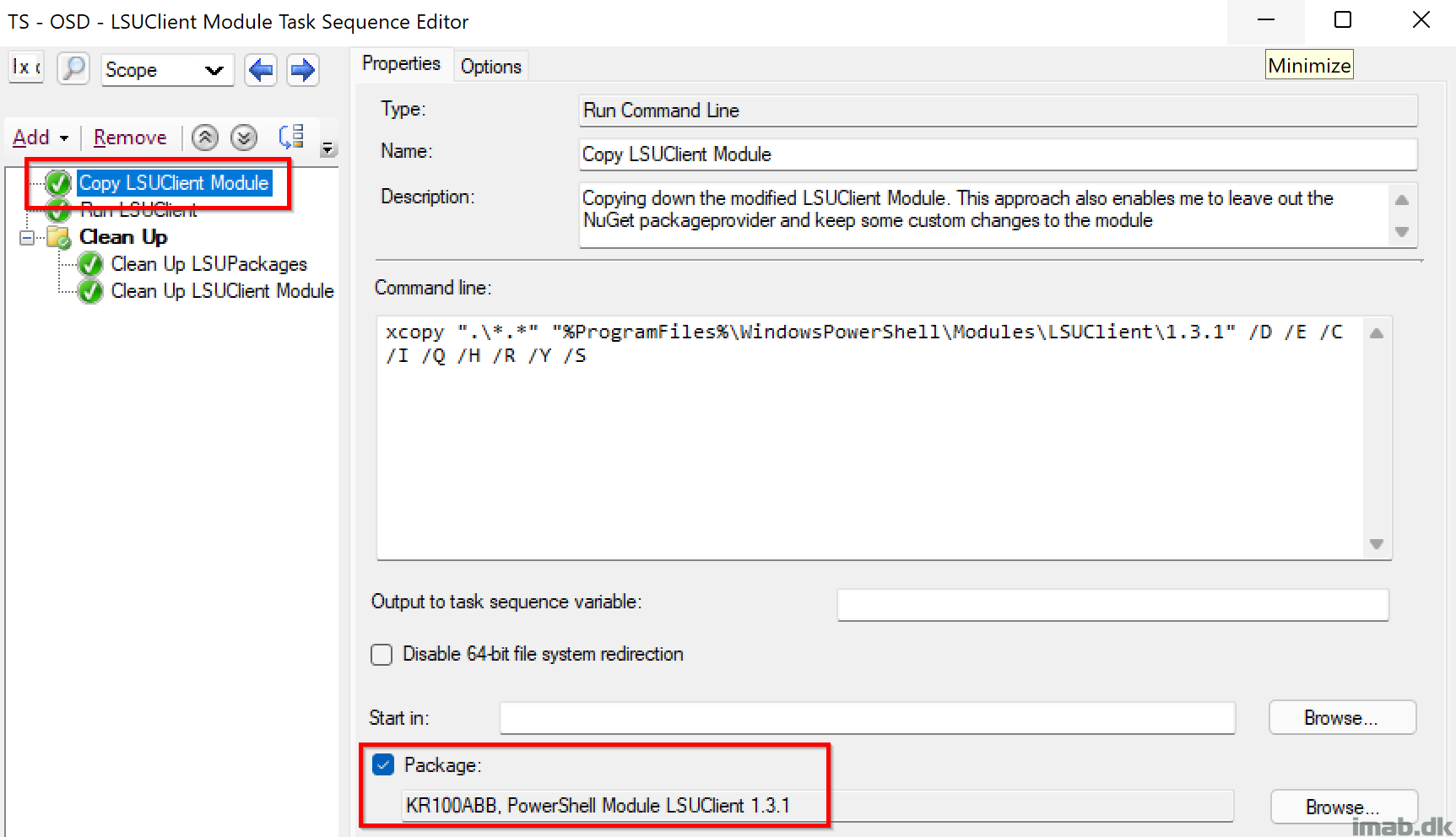 Run LSUClient. This is where all the good stuff happens. Find the referenced script on my GitHub here: PowerShell/Run-LSUClientModule-OSD.ps1 at master · imabdk/PowerShell (github.com)
The script does following in headlines:
Gets the current Lenovo computer model of the device running the script

Using that for flexibility and filtering

Imports the LSUClient module
Runs the Get-LSUClient module via 2 different functions

Again, used for filtering, depending on what model that's running the script

I needed this due to a very specific model acting up with the Intel Graphics driver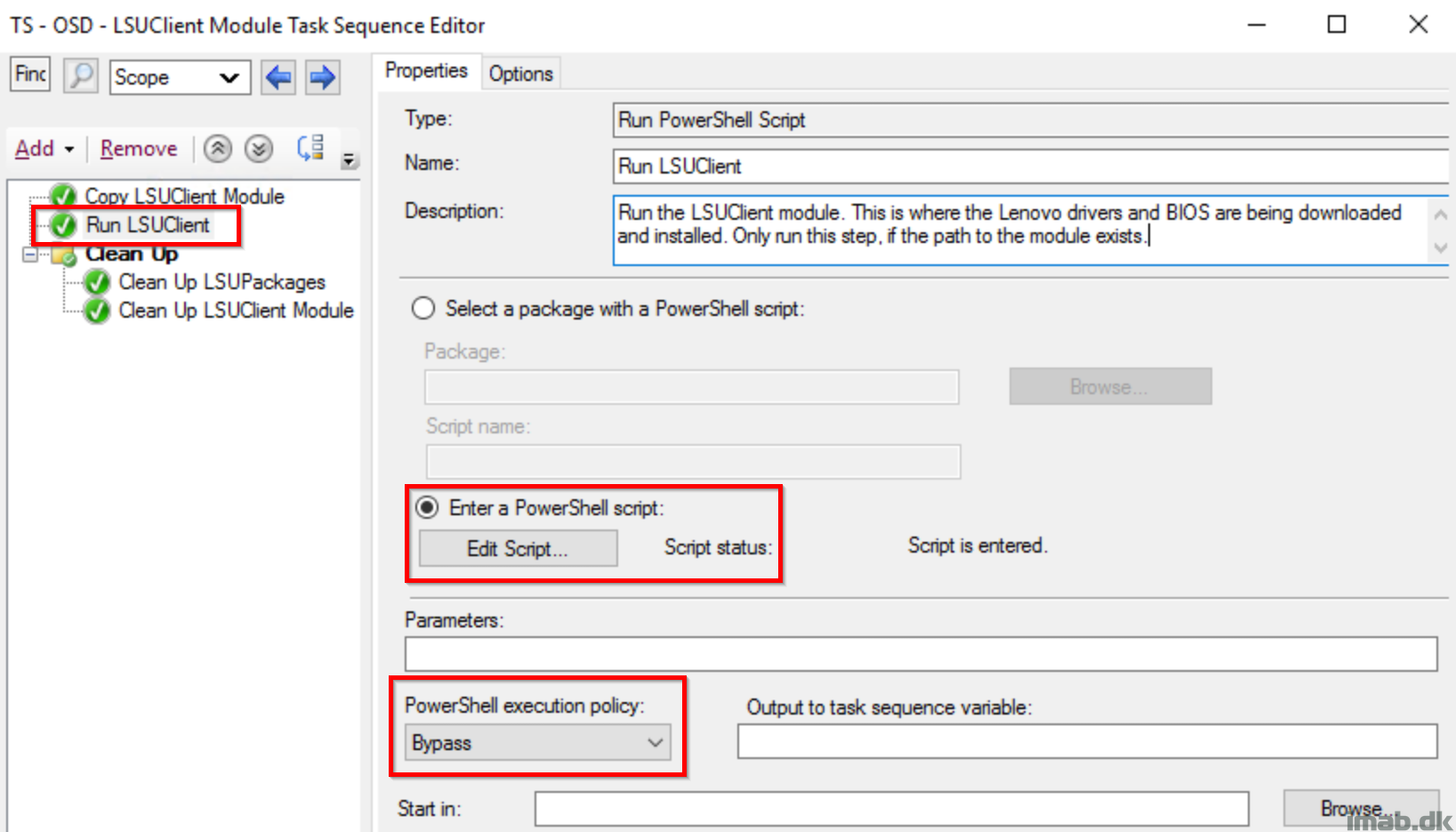 Next up, I do some conditional clean up.

When the script is run as SYSTEM, the packages downloaded by the module is stored in Windir\Temp. I prefer to clean those up, if everything went smooth, as they can take up a considerable amount of disk space.

And I prefer to clean up the installed module as well, as that is no longer needed at this point.

What else?
The script I created to initiate the LSUClient module, also does some light registry tattooing. This is mostly done, in case I want to inventory any of this.
The model number and the model name of the device is listed, as well which drivers that was found and installed: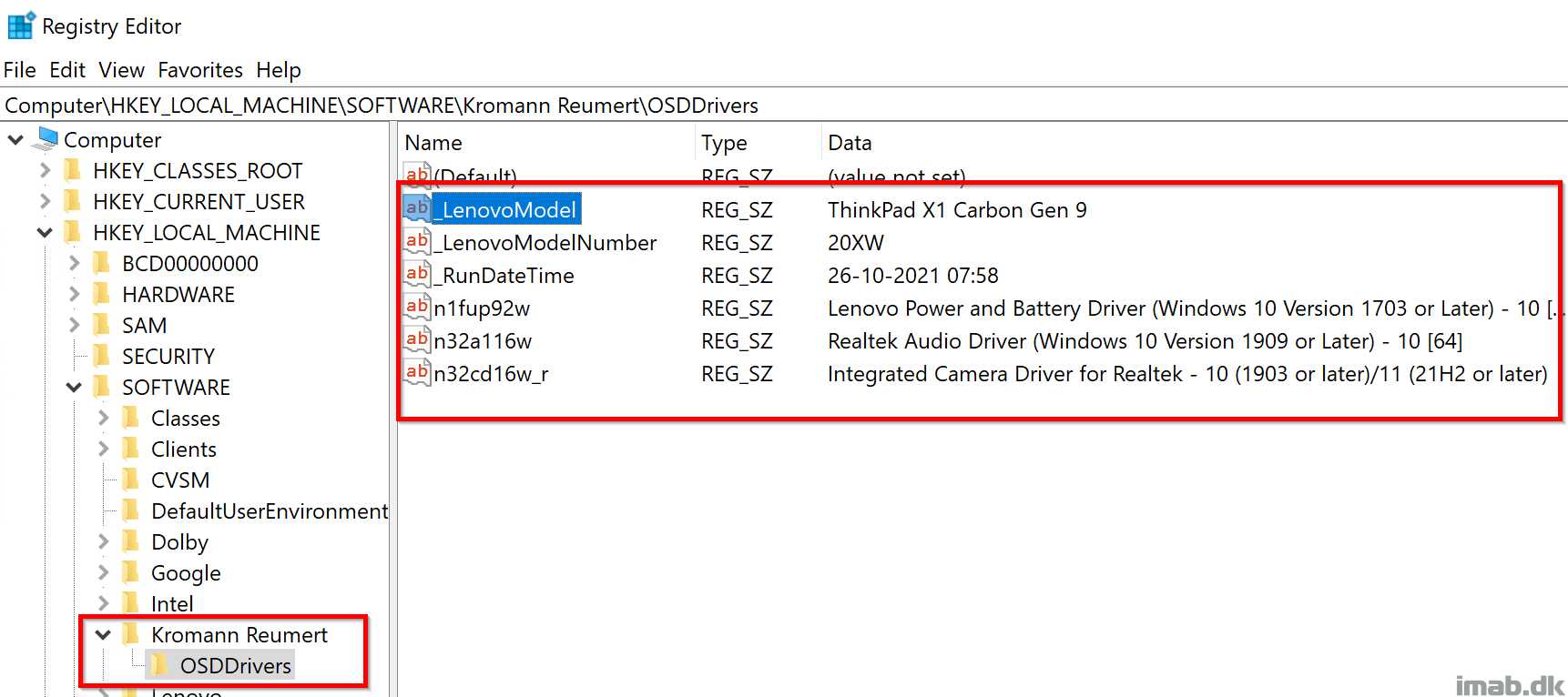 The LSUClient module as well as my script initiating the module, does logging into smsts.log: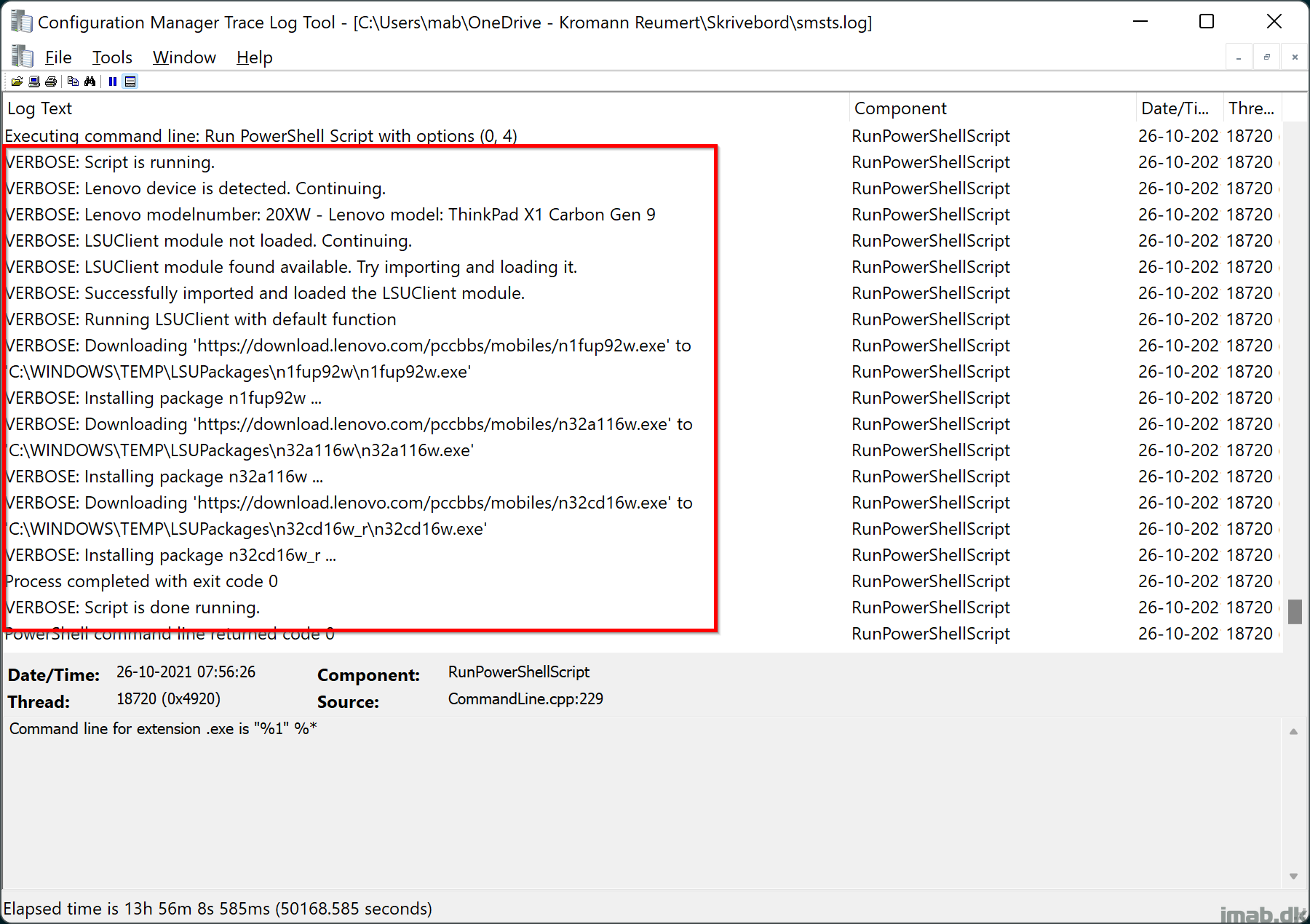 Important!
I still recommend that you include the drivers for your NIC before moving into FullOS, otherwise you will start seeing slow downloads and other connectivity issues.
That translates into, you still need to do whatever you did with your drivers prior to this, but just for the drivers for the NIC.
I used to apply all drivers compressed as WIM, and I did a post on the topic last year: Apply drivers compressed with WIM during OSD with Configuration Manager.
I still do that, but now the .wim file only contains my NIC drivers for the specific model, and therefore it requires almost zero disk space.
This also serves as a backup plan, in case something goes completely amiss with the new approach. It's quite easy to mount the corresponding .wim file and add the necessary drivers 🙂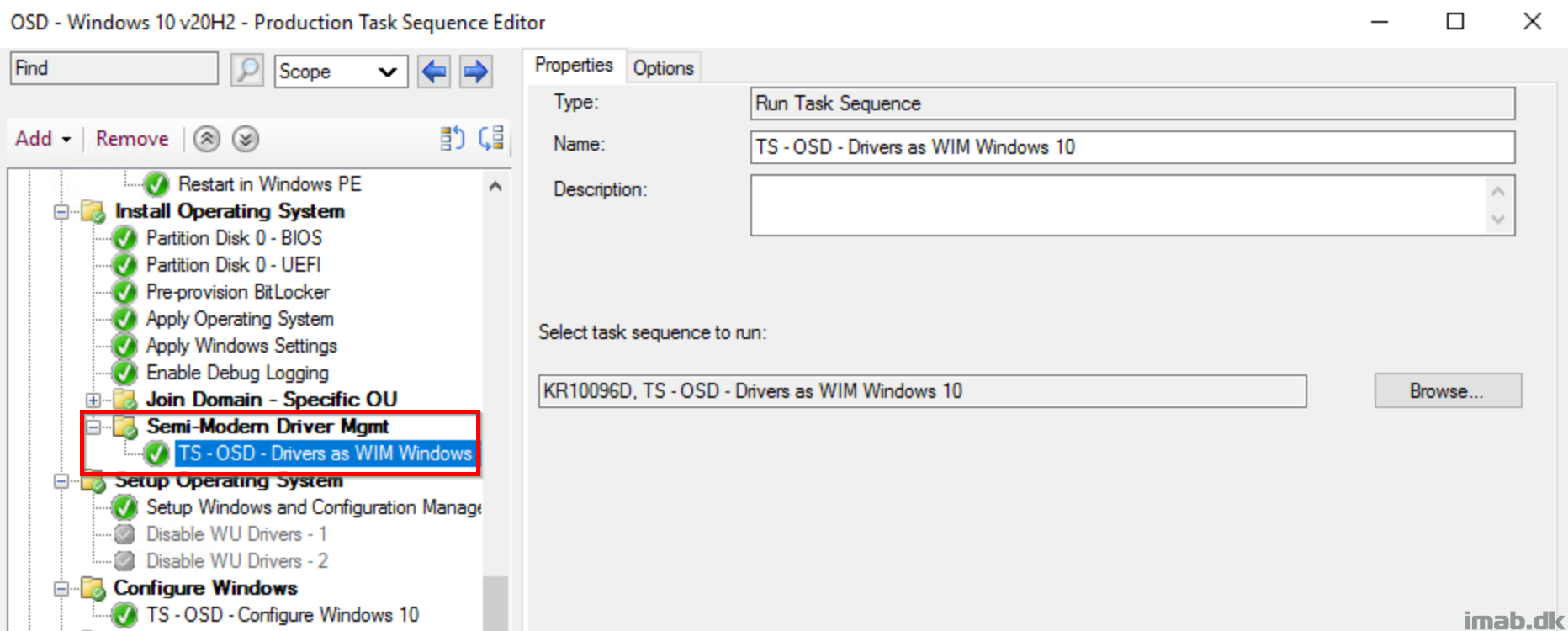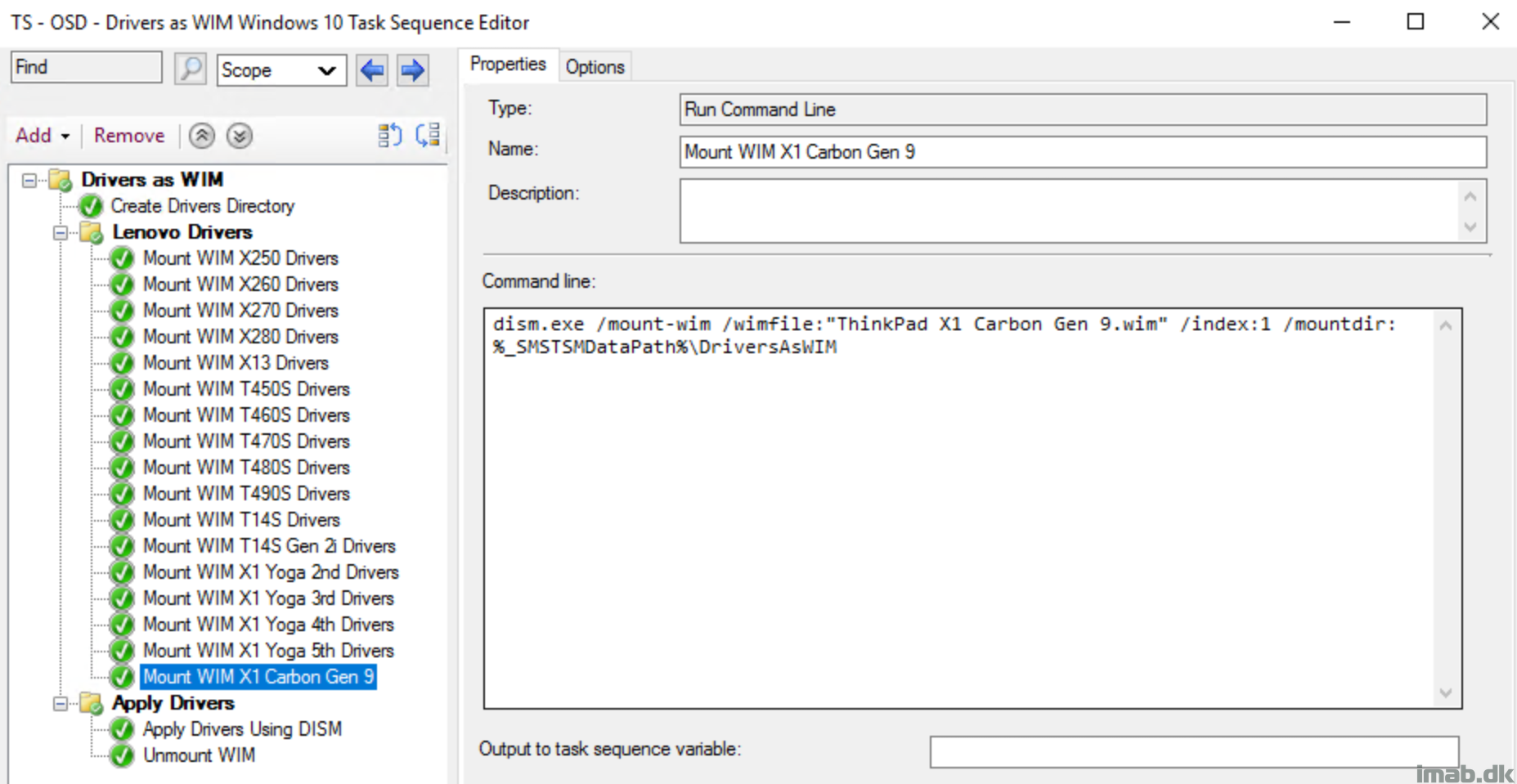 ENJOY 🙂
Download the nested Task Sequence: imab.dk-LSUClient.zip (1304 downloads)