Introduction
It's here! The new and delicious version of my Windows 10 Toast Notification Script. The script is now being on version 2.0.0.
First off, a huge thank you to Chad Brower for his incredible contributions to this new version. Most of the new functionality here, is a direct incorporation of Chad's work (yet I end up spending 20 hours+ on deciphering and rewriting code, testing functionality, writing blog and updating documentation. I learned a ton!). 🙂
This new version, obviously brings the option to run Software (Feature) Updates directly from the action button in the toast notification, but also removes the need to manually, and outside of the script, to create the custom protocols and scripts (those enabling you, to run anything custom from the toast notification action button).
Find all the nifty details down below.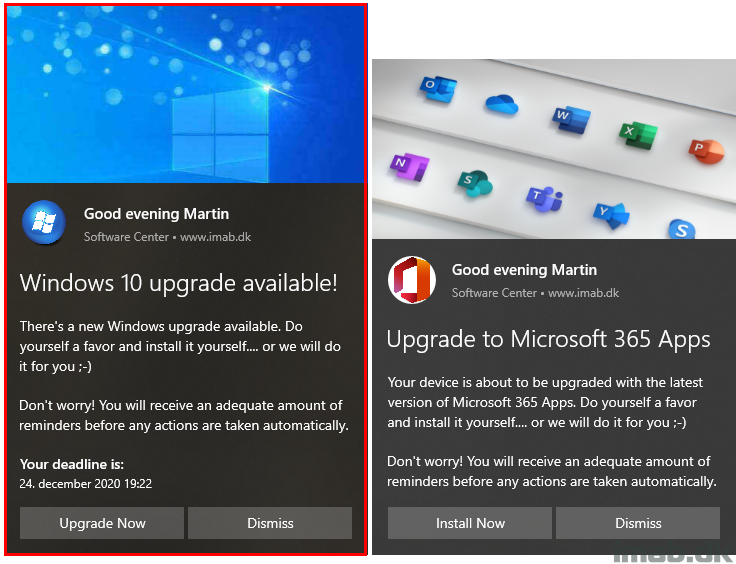 What's New
** Most of the work done in version 2.0.0 is done by Chad Brower // @Brower_Cha on Twitter.
I have added the additional protocols/scripts and rewritten some minor things, as well as added support for dynamic deadline retrieval for software updates. Stuff has been rewritten to suit my understanding and thoughts of the script. **
2.0.0 – Huge changes to how this script handles custom protocols

Added Support for Custom Actions/Protocols within the script under user context removing the need for that to be run under SYSTEM/ADMIN

<Option Name="Action" Value="ToastRunUpdateID:" />
<Option Name="Action" Value="ToastRunPackageID:" />
<Option Name="Action" Value="ToastRunApplicationID:" />
<Option Name="Action" Value="ToastReboot:" />

Added Support to dynamically create Custom Action Scripts to support Custom Protocols
Added Support for Software (Feature) Updates : Searches for an update and will store in variable
Added new XML Types for Software Updates:

<Option Name="RunUpdateID" Enabled="True" Value="3012973″ />
<Option Name="RunUpdateTitle" Enabled="True" Value="Version 1909″ />

Added support for getting deadline date/time dynamically for software updates

Configure DynamicDeadline with the UpdateID
Config.xml
The config.xml files comes with 3 new options:
RunUpdateID
RunUpdateTitle
CreateScriptsAndProtocols
RunUpdateID and RunUpdateTitle
To enable the script to run Software Updates directly from the action button, configure RunUpdateID to Enabled="True" and specify the relevant KB-Article ID(without the KB) in the Value field: Value="4561600″.
You can go into more detail and configure RunUpdateTitle to Enabled="True" and specify parts of the title of the update. This is to cater for, if several updates within the same KB-article is deployed to the device.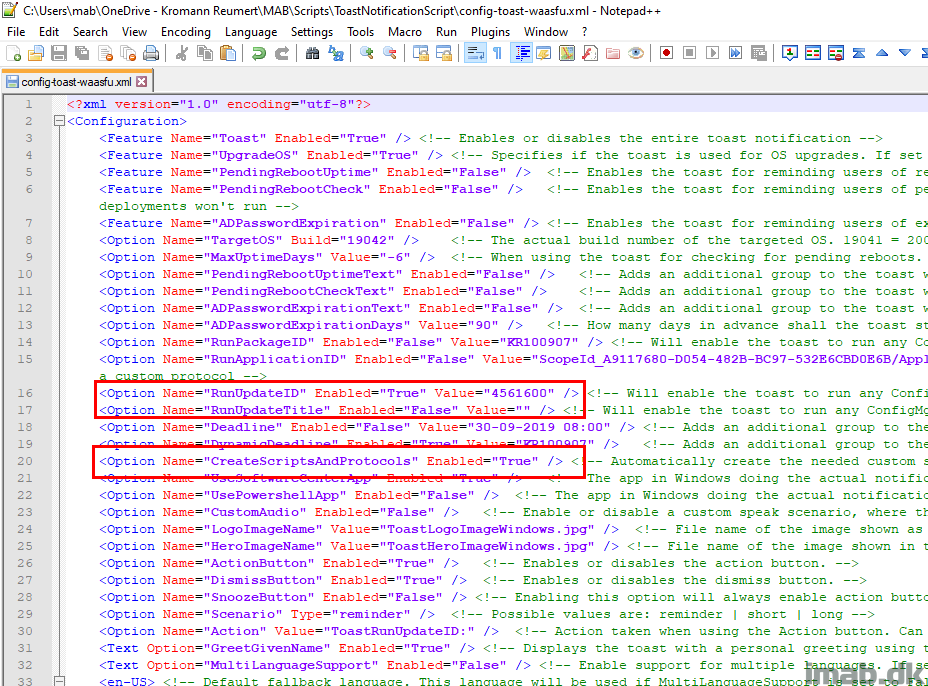 You can find both the Article ID and the Title from within the Configuration Manager console: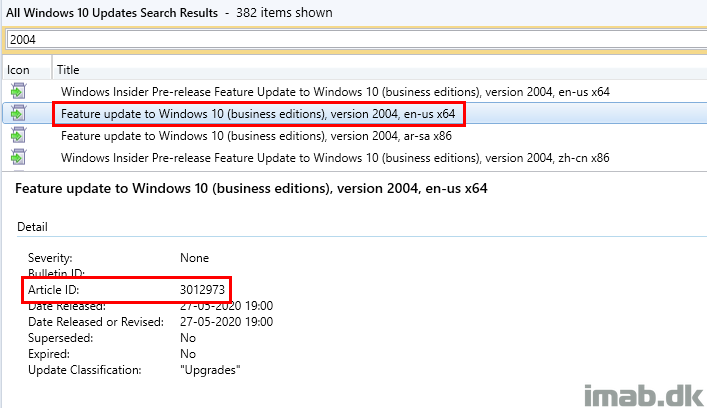 CreateScriptsAndProtocols
This new option is indeed huge, and will ease the pain in creating custom scripts and protocols, when using the Toast Notification Script with some of the built-in features. However, if you want the toast notification to do something entirely different, you will still need to create those yourself.
If you want the script to create the scripts and protocols for you, simply configure CreateScriptsAndProtocols to Enabled="True".
NOTE: I made this optional via the config.xml intentional. One might find the creation of scripts and protocols too intrusive and perhaps have the scripts/protocols created by other means.
Protocols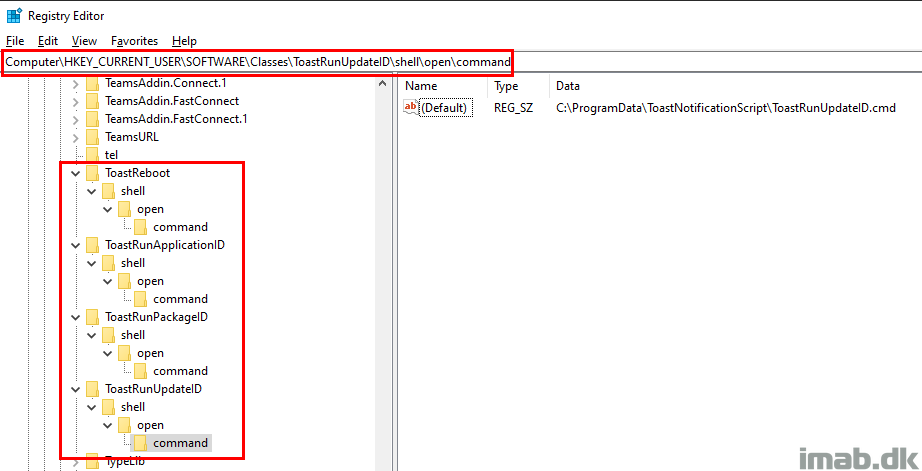 Scripts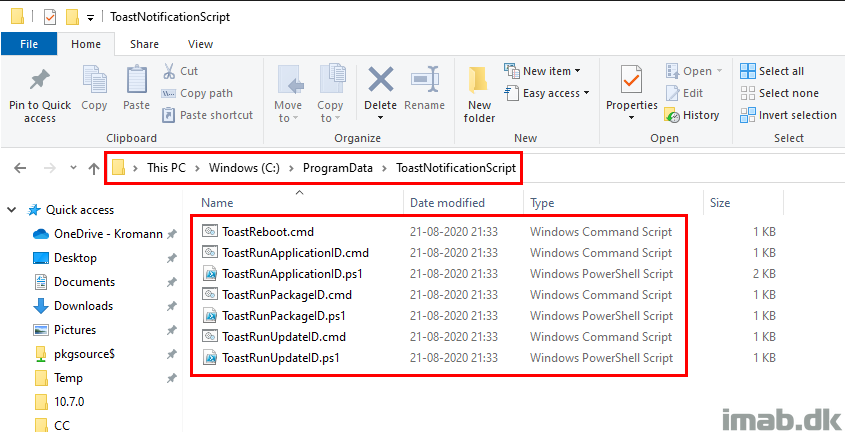 DynamicDeadline
This option is not new, but instead it has been updated to support getting deadline details for Software (Feature) Updates.
To use this option with Software Updates, configure DynamicDeadline to Enabled="True" and configure the Value to the Article ID of the software update in question.
<Option Name="DynamicDeadline" Enabled="True" Value="4561600" />
Documentation
Lo' and behold. I have updated the documentation for the Windows 10 Toast Notification Script. A new revision is included in the download below.
At the time of writing, I'm not sure if I miss out on any important details. If I do, please drop a comment on https://www.imab.dk/windows-10-toast-notification-script/.
Download
Again, the script has moved away from TechNet Gallery into GitHub here: https://github.com/imabdk/Toast-Notification-Script
If any questions, please leave them down below and I am happy to assist with any issues.
ENJOY ?